OPEN WATER DIVER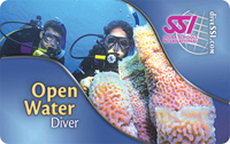 OPEN WATER DIVER


Becoming an SSI Open Water Diver is the best way to start your scuba adventure due to worldwide recognition!

With personalized training and taking enough time, we make sure you are truly comfortable under water with the skills and equipment you will use. In general, an Open Water Diver course consists of 3 parts: Academics, Pool Training and Open Water Sessions.

ACADEMICS:
The SSI Training Materials and Online Training program are designed so that you can learn the academics at your own pace when it is convenient for you. You can complete the academics online FREE when you sign up for SSI's Online Training program, and then attend review sessions at your favorite SSI Dive Center.
POOL TRAINING:
For your pool and open water training your instructor will fit you to your scuba equipment so you will become comfortable in your "second skin".
OPEN WATER SESSIONS:
You will complete at least 4 open water dives and have the chance to experience everything you learned in the pool hands-on. After successful completion of your open water training dives you will become a Certified Diver. The SSI Open Water Diver certification is recognized worldwide so your diving experiences will be limitless.
The fun doesn't need to stop there! With just a little more training, you can go even further - imagine diving in underwater shipwrecks, with sharks, or becoming an underwater photographer! Check out all of the exciting Specialty Programs you can get involved in. It's your chance to move to the next level in your diving adventures. SSI will be a reliable buddy accompanying you on your way.

---
---
SPECIALTIES AND ADVANCE
It is up to you to decide how far you want to go. And the best part is recognition at DLSC is free! Complete your Specialty Programs with the applicable SSI Specialty certification card and receive the DLSC Recognition Ratings:Specialty Diver, Advanced Open Water Diver, and Master Diver - free. SSI´s certifications are recognized worldwide so your diving experiences will be limitless.
SPECIALTY DIVER
In order to receive a Specialty Diver rating or Junior Specialty Diver rating students are
to successfully complete any 2 Specialty programs and log a total of at least 12 open water dives for
certification. You will receive 2 specialties card plus a recognition card stating you are a Specialty Diver
3 cards for the price of 2.
ADVANCE DIVER
In order to receive an Advanced Open Water Diver rating or Junior Advanced Open Water
Diver rating, students are to successfully complete any 4 Specialty programs and log a total of at least 24
open water dives for certification. YOU will receive another free card. 4 cards and two free cards with one saying you are a Advance Diver. 6 cards for the price of 4
The Diving Locker Ski Chalet combines these 4 courses below to give you the Advance Diver Rating.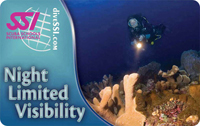 NIGHT & LIMITED VISIBILITY
Whether it's day or night, limited visibility can be an adventure. Just because the visibility is limited doesn't mean the opportunities have to be. This program is filled with information about planning and conducting night and limited visibility dives for fun, adventure, and exploration.


---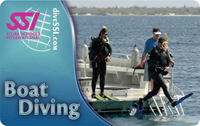 BOAT DIVING
Boats allow you the opportunity to explore spectacular dive sites far from shore. This program covers the additional knowledge you need to make your first boat diving vacation a true success, and the techniques necessary to dive properly from all sizes and types of boats. Enhance your dive trips!

---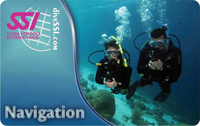 NAVIGATION
To become a safe and confident diver, it is critical to develop an understanding of navigation. You will learn how to navigate with a compass, and how to apply natural navigation skills, estimate distances, navigate different search patterns, find your way to marking points, and be able to get back to the exit point.


---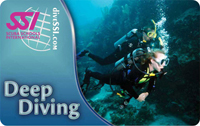 DEEP DIVING
Many of the more exciting and intriguing dive sites are located in deeper water. Without proper training, this kind of diving can put you at risk. Deep Diving program will provide you with the knowledge, skills, and experience required to make these types of dives safely and comfortably. Explore the big blue!


---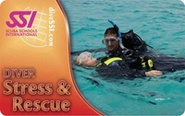 SSI COURSE: DIVER STRESS & RESCUE
"Be prepared for those unexpected emergencies."

Stress is a major contributor to rescue situations and diving accidents. Through this course you will learn accident prevention, as well as how to handle problem situations if they occur.
The program is about avoiding, recognizing and solving problems on the surface and underwater.
The course runs two - four days in which you will participate in academic and in-water sessions in the pool and in the open water. As a prerequisite for certification you need to have a valid CPR, First Aid & Oxygen Provider certificate.
If you want to learn more about DIVER STRESS & RESCUE, you can buy the manual or the DVD even if you don't want to sign up for the course.
Course Content:

What Is Stress?
Stress In Diving:Causes And Prevention
Detecting And Dealing With Stress
Accident Management
Skills Needed To Deal With Panic And Rescues
Conditions That Complicate Rescues
The primary goal of any SSI Specialty course is to teach you important skills in a fun environment. All courses are taught using home study, short academic sessions, and in-water training.

Combine other specialties while taking the DIVER STRESS & RESCUE course! NAVIGATION or SEARCH AND RECOVERY are great add ons. The possibilities are limitless!
For more information about SSI Specialty Programs contact Diving Locker Ski Chalet!

---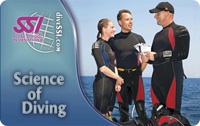 SSI SPECIALTY COURSE: SCIENCE OF DIVING
"Having the right knowledge is just as important as the proper handling of your diving equipment!"

Diving is just more fun and safer if you know more about it.

The SCIENCE OF DIVING program treats all areas of dive theory to a detailed and comprehensive manner: physics, physiology, decompression theory, marine life and diving equipment.

Whether you simply want more knowledge or plan to become a Dive Professional, Science of Diving is just what you need!
The SCIENCE OF DIVING program is a perfect "winter Specialty", since no dives are required. If you want to know more about the dive theory, you can just buy the manual, to sign up for the course.
Course Content:
Physics
Physiology
Decompression
Underwater World
Diving Equipment
SSI Specialties are always fun and the learning of new skills to the fore. This program will be held intensive academic sessions to which you can prepare yourself well with the aid of the manual.
You can also learn other activities and ideally combined with SCIENCE OF DIVING, such as the Dive Professional programs DIVE GUIDE and Dive Control Specialist. The possibilities are endless, because a good education gives you the most interesting dives around the globe.
For more information about SSI Specialty Programs contact Diving Locker Ski Chalet!




---
---
DIVE PROFESSIONAL CAREER PATHWAY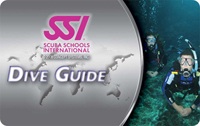 DIVE GUIDE (DG)This program is using practical application and background information. The goal is to create well-prepared, versatile and marketable Dive Professionals. SSI Dive Guides can lead and guide certified divers. Additionally, after passing the Snorkeling Instructor program, a Dive Guide can teach and issue Snorkeling certifications.


---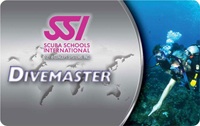 DIVEMASTER (DM)Dive Guide plus the Science of Diving program equals Divemaster. Divemasters can assist SSI Instructors with pool/confined water and open water training under the direct supervision of an SSI Instructor. This brings valued experience for all future diving carriers


---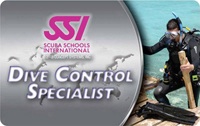 DIVE CONTROL SPECIALIST (DCS)Enroll in a Dive Control Specialist program or enter the program as a Divemaster from any approved agency. After you are certified you can teach Scuba Skills Update, Snorkeling and Try Scuba (pool only) and you can even upgrade Training Specialist - a further step at your career ladder.




---
---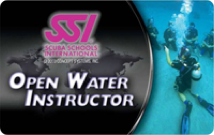 INSTRUCTOR CAREER PATHWAY

From the time man had the urge to explore the underwater world, the pleasures were denied to the vast majority until scuba training and equipment were developed in its present form. Now that diving is accessible to anyone, there is a high demand for people who have a passion for diving and want to share that experience with others.

For SSI, the most important step in a Dive Professional´s career is becoming a person who can train new divers – the SSI Open Water Instructor.

The Open Water Instructor´s mission is to inspire and influence beginners to grow in their diving experiences with the goal of making them committed divers. The goal of the Instructor Training Course (ITC) is to increase your retail business and industry knowledge, expand your teaching skills and add professional presentation/sales experience through modern workshops and practical applications. It is an opportunity to learn how to deliver "The Ultimate Dive Experience."

The SSI Instructor Training Course is a unique program that has stood the test of time. In order to stay competitive in today's diving industry, the program has been updated to ensure that all Dive Professionals are equipped with the latest retail business training and industry knowledge. A newly certified SSI Open Water Instructor can be absolutely sure to have all necessary skills and knowledge to work successfully.
For more information about SSI Instructor Program contact Diving Locker Ski Chalet!
---