Are You Ready To Become An Open Water Diver?


​



​




​​TRY SCUBA
By Appointment Only.
Call us today to schedule your session!
Private 1 hour session: $25.00

LOOKING FOR A NEW ADVENTURE?

​Try Scuba Diving!
It's your chance to discover unknown worlds, make new friends, and enjoy a unique passion.
There's nothing like it. Diving is much easier than you might think!
Be ready to enjoy the new challenge and dive into a new world!

To truly enjoy your first trip under water you need a guide you can trust completely. A competent, well trained SSI Dive Leader will teach you everything you need to know. Under their guidance you will learn all required skills and become completely comfortable with the equipment you're using during your first underwater adventure. Start with SSI, and you get all the advantages of one of the biggest international diving associations: worldwide recognition and proven learning methods in the latest media formats. We're sure - once you've tried it you'll love it! Afterwards, it only makes sense that you continue your adventure to become a certified diver.


​Call the Diving Locker Ski Chalet Today and let us take you diving.



Refresher Course

By Appointment Only.
Call us today to schedule your session!
​Get Your Fins Wet!

Private Class:

$175.00

Course with Open Water Students:

$75.00

The refresher course (scuba skills update)provides you with the opportunity to review and practice necessary scuba skills that you learned in your original Open Water Diver program under the guidance of an SSI Dive Professional. The Scuba Skills Update is often a required for continuing your diving training after a long period of time away from the sport. You will be issued an SSI Scuba Skills Update recognition card.

KNOWLEDGE

Your Scuba Skills Update Dive Leader will review the knowledge you learned in your Open Water Diver class as well as cover any new material. You will review dive planning, dive tables and dive execution to keep you safe during future diving activities.

SKILLS

In the Scuba Skills Update you will have the opportunity to practice and review the scuba skills you learned in your open water diver class and learn techniques that may have changed. You will have the opportunity to refresh your memory and motor coordination, as well as practice your self-aid skills - all under the guidance of a dive leader.

EQUIPMENT

The Scuba Skills Update is a great opportunity to re-learn your current equipment, or the perfect time to learn about and adjust your new equipment with the guidance of a dive leader.
Try Scuba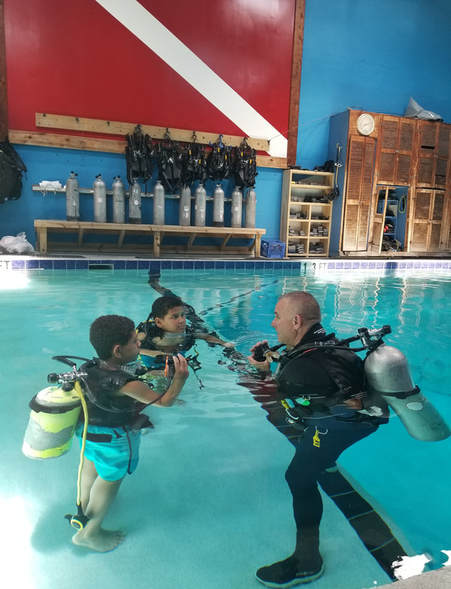 Our instructors will prepare you for your Try Scuba session.
You will be fitted for a mask, fins, booties and a BCD to experience what being under the water is like!